Choose the type of advert you want
Your advert will appear online until you notify us that the item has been sold (or if we fail to hear from you after 21 days), and has a guaranteed insertion in one issue of the magazine* where indicated. We will contact you by email to ensure our classifieds are always up-to-date.
Who will see my advert?
Your advert will be seen by readers of YachtsandYachting.com and Yachts and Yachting Magazine, reaching in excess of 150,000 people. An average issue of the magazine is read by over 73,000 people (figure based on publisher's survey) and the website attracts some 95,000 different visitors per month (measured by IP address during August 2010).


Magazine appearance
This is an example of how adverts look in the magazine: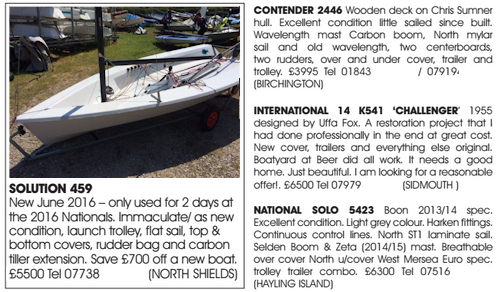 Want to book by telephone?
Free adverts are only available through our online booking service, telephone adverts are subject to an additional £25 service fee per booking, any changes or alterations to bookings will count as a new booking. To speak to one of our sales team to book a telephone advert call 0207 901 8027.
The small print
Your advert will appear online until you notify us that the item has been sold! We contact you by email every fortnight to re-confirm your advert, thereby ensuring our classifieds are always up-to-date.

*All paid adverts have one guaranteed insertion in the next available issue of the magazine. Free adverts are not guaranteed to appear in the magazine, although we reserve the right to use any adverts submitted in listings in any of our YachtsandYachting.com or Chelsea Magazine Company publications.

Yachts and Yachting Online Ltd and The Chelsea Magazine Company Ltd reserve the right to refuse any advert.
We also reserve the right to remove adverts one year after they were first added.
We do not accept liability if the electronic submission of an advert fails for any reason.
You must have the photographers permission to use any photographs submitted to us.
Once you have paid for your advert we are unable to make any refunds
All prices quoted are for members of the general public.

Trade adverts must be marked as such, and may only appear in the magazine if a fee has been paid.
Our classifieds are designed for single products for sale, not for services or a range of products. If you are a company wishing to advertise new products or services, please call Mark Jardine on +44 (7710) 930270.